NFC North Draft Grades
Detroit Lions Draft Grade 2020
There was a lot of speculation about the Lions moving down with the 3rd overall pick, but I don't fault them at all for grabbing the best cornerback of the draft.
Most criticism came from their 2nd round selection in D'Andre Swift. Sure, Kerryon Johnson is very talented, but has yet to prove that he can stay healthy. Many would argue that Swift was the best running back of the draft and Matt Patricia is cut from run dedication cloth.
They followed up with Julian Okwara who I think was a fantastic pick. He did not get nearly enough love coming into the draft due to a broken fibula.
Jonah Jackson was also one of the best pass blocking offensive lineman of the draft and another pick which way too many people didn't like. They need to keep Stafford upright and they also addressed that a pick later doubling down on guard.
Green Bay Packers Draft Grade 2020
This was interesting. I like both Jordan Love and A.J. Dillon as talents and I think both will find success in the NFL. That being said, NO PACKERS, NO!!!
How are you going to spend your first and 2nd round picks to get players at your already strongest positions? Did you really have to trade up to draft Jordan Love? This draft was extremely deep and I think they missed out on big chances to make their team better instead of building for the future especially considering they were 1 game away from the Super Bowl.
I don't think any of their first 3 picks will have a significant impact and it took until the 5th round for them to actually start addressing team needs. Aaron Rodgers needs help and this only tells me that they are shipping him out of Green Bay sooner than later. It's like they conceded their shot at a championship this season.
Chicago Bears Draft Grade
I actually like Cole Kmet and think he was the best tight end of the draft, but the pick still didn't make sense. They just took on the massive contract of past his prime Jimmy Graham. This screams a rebuild pick to me.
Jaylon Johnson saved the day as I think this was one of the best value picks of the draft. Shoulder injuries sent him down many teams boards, but this is a 1st round talent.
They drafted a lot of players that could make an impact down the line, but Jaylon Johnson is the only player I see making a day 1 impact.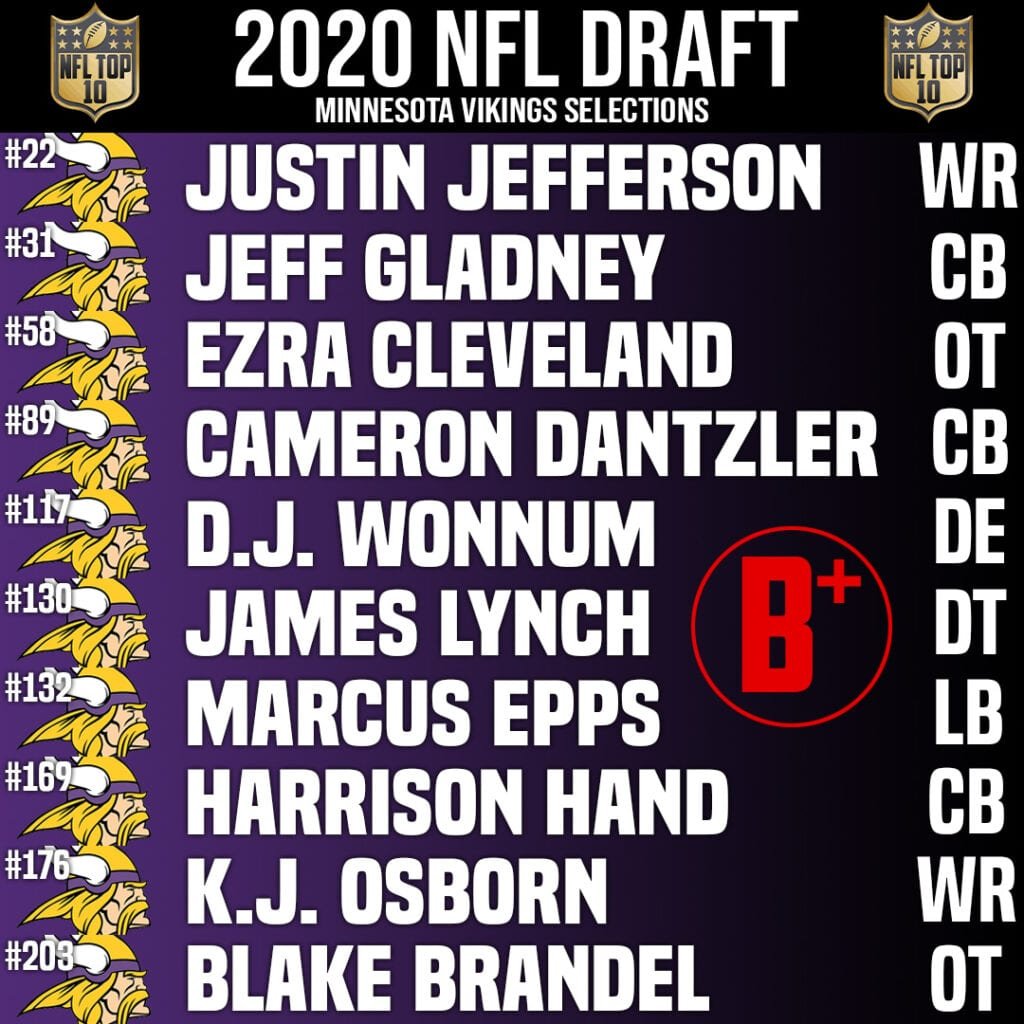 Minnesota Vikings Draft Grade
The Minnesota Vikings had 15 total draft picks. Yes, 15 total draft picks. And you know what, they did good after losing Stefon Diggs.
Justin Jefferson is no Diggs, but was a great pick in an extremely deep wide receiver draft. He will be the immediate starter across from Adam Thielen and don't be shocked if he produces more than any wide receiver in the draft.
Jeff Gladney was also another solid selection at first overall and more than makes up for the loss of Xavier Rhodes who clearly had his best days behind him. He is undersized, and it will be interesting to see how his skillset translates into the NFL.
I also loved the Ezra Cleveland who will become a day one starter to protect Kirk Cousins. After that my favorite pick was James Lynch who fell much further than he should have.