After his breakout season, Dalvin Cook will not participate in any Minnesota Vikings activities until he receives a "reasonable" deal.
Pro-Bowl RB Dalvin Cook no longer will participate in any team-related activities until and unless he receives a "reasonable" deal, a source said Monday.

"He's out," a source told ESPN. "Without a reasonable extension, he will not be showing up for camp or beyond."

— Adam Schefter (@AdamSchefter) June 8, 2020
Is it just a threat? Purely speculation at this point. I will say it's clear Dalvin Cook has massively outperformed his current yearly salary of 1.6 million. That begs the question, does Dalvin Cook deserve the 13 million dollar contract he desires?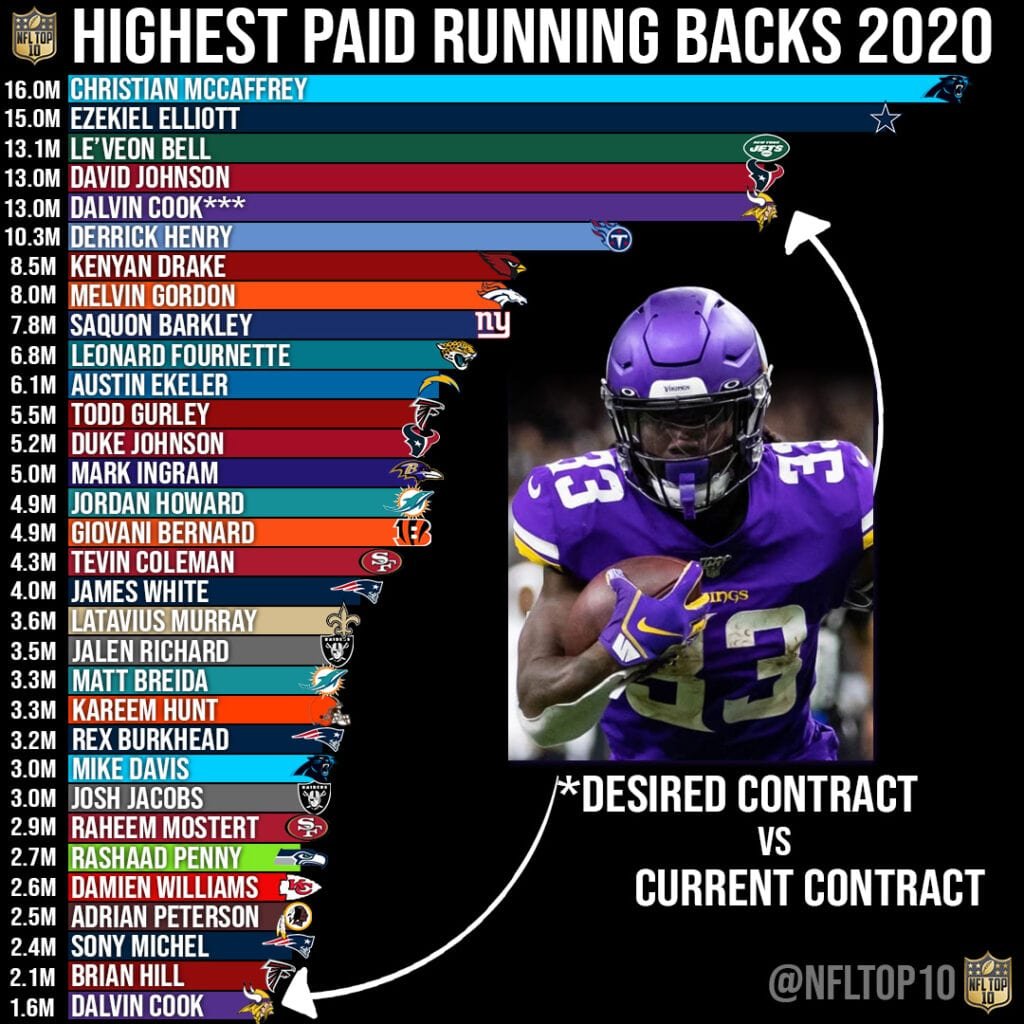 Last season he rushed for 1135 yards and 13 touchdowns only earning 10% of David Johnson's salary. I bring up David Johnson because Dalvin Cook is asking for 13 million dollars per year. When Johnson signed his deal  he became the highest paid running back in the NFL, but is now only the 4th highest paid. John signed that deal at 26 years old but Dalvin Cook is only 24.
On those terms his asking price seems pretty reasonable. It's a massive raise from his rookie deal, but he's not asking for Ezekiel Elliott or Christian McCaffrey money. Dalvin Cook  doesn't have too much tread on the tires and his production is upward trending going into his 4th season.
So, do I think Dalvin Cook should get paid 13 million a year? The answer is no. He is an amazing running back, but it's just that. A running back.
The reason Christian McCaffrey quietly became the highest paid running back in the NFL is because he is not really a running back. McCaffrey could make a career out of playing receiver and that versatility is a testimate to the running back position evolving alongside the pass heavy NFL.
Christian McCaffrey, Le'Veon Bell and David Johnson are all pass catching specialists signing deals after their best year. That versatility makes it easier to justify that kind of contract.
The NFL is a cut throat business and while Cook had stats of a top 5 running back last season he won't get paid like a top 5 running back. With talented running backs like Alexander Mattison and Mike Boone behind him and considering he hasn't played a full season in the NFL, Dalvin Cook has no leverage.
I think the Vikings will re-sign Cook before the season, but it will be for closer to 10 million. What do you think?
[yop_poll id="23″]
[yop_poll id="24″]