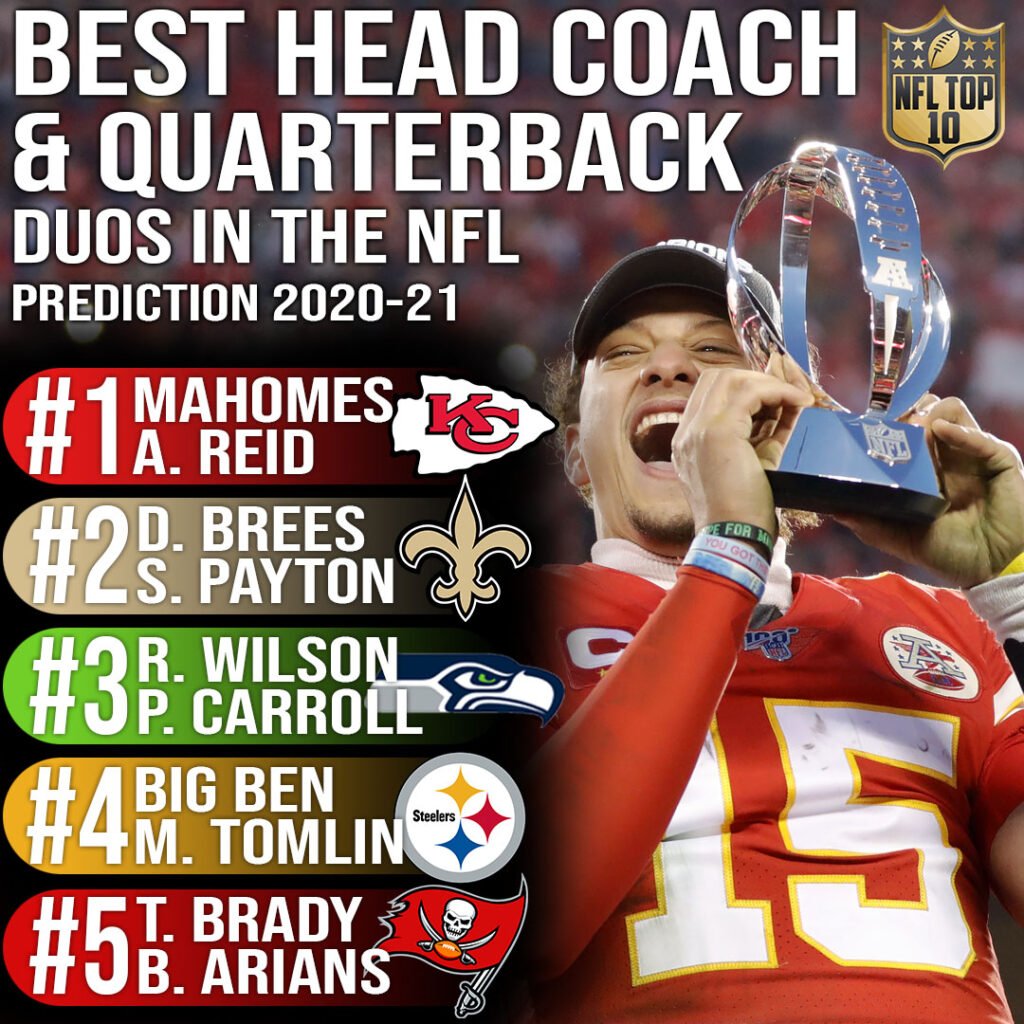 Best Head Coach and Quarterback Duos in the NFL
A coach is only as good as his Quarterback. While that may not be totally true, having a great QB versus a game manager is a luxury. This list is based off who I believe are the best Head Coach and Quarterback duos in the NFL. This takes into account their production together so far as well as projected production.
10. Kyler Murray & Kliff Kingsbury
It was the first NFL season for both Murray and Kinsbury last season. They have a lot to learn and grow from, but I love the off-season moves made. Kingsbury runs the most pass heavy offense in the NFL and DeAndre Hopkins is a massive addition for young Kyler Murray. They will improve on their 5 win season.
9. Jimmy Garoppolo & Kyle Shanahan
Jimmy Garoppolo is the worst Quarterback on this list, but Shanahan is an offensive guru. Shanahan made an MVP out of Matt Ryan and makes Jimmy G look better than he is. This offense will continue to be one of the most efficient in the NFL.
8. Caron Wentz & Doug Peterson
Doug Peterson won a Super Bowl with Nick Foles under center. Can he do the same with Wentz? If Wentz can stay healthy, this Eagles team can keep that underdog momentum going on route to a playoff run.
7. Aaron Rodgers & Matt Lafleur
If the Packers drafted more weapons for Rodgers, he would be a riser on this list. Lafleur was 1 game away from the Super Bowl in his first year as head coach. I believe the Packers will be slightly worse than last season.
6. Lamar Jackson & John Harbaugh
What? The MVP and coach of the year not in the top 5? Yes. I love what these two did last season, but this is the 2nd season in a row they couldn't pull off a playoff win. They will still be great, but they need to win it when it matters most.
5. Tom Brady & Bruce Arians
This is my bold take of the year. I love the Bucs next season with Brady under the helm. He brings a winning culture that they haven't had since the early 2000s. Bruce Arians also does not get enough credit as a coach. He is an offensive guru that nobody talks about.
4. Ben Roethlisberger & Mike Tomlin
The Steelers had no right winning 8 games last season with Mason Rudolph under center. Mike Tomlin is extremely underrated as a Head Coach. Big Ben is far from his prime, but I think this offense will benefit tremendously with him at the helm.
3. Russell Wilson & Pete Carroll
Pete Carroll no longer has the defense first team that he found so much success with. It's now the Russell Wilson show in Seattle and rightfully so. I have him as the 2nd best quarterback in the NFL and should continue to dominate with Metcalf and Lockett as weapons.
2. Drew Brees & Sean Payton
Sean Payton proved just how great this team is top to bottom when Brees went down last season. He is the most gifted offensive mind in the NFL and can win with anyone. That being said Brees gives them the best chance. He is the most accurate QB ever who will continue to run this high octane offense that seems to always be dead last in total giveaways.
1.Patrick Mahomes & Andy Reid
It was only 1 season! Well no. Andy Reid has already proved his chops as a Coach and it's about time he won his Super Bowl. He may not be the best coach in the NFL, but he has the best quarterback at the helm. Mahomes has the strongest arm and Reid armed him with the fastest players to throw to. The Chiefs are my favorite to win the Super Bowl next season.